By Lisa White
  This post may contain affiliate links
The popularity of Manuka honey is booming and for good reason. The honey is produced from flowers of the Manuka bush that is native to New Zealand.

This very unique honey is considered superior to traditional honey because of its impressive antibacterial and antioxidant properties. Numerous studies on Manuka honey suggest that good quality varieties have medicinal properties. Not only does it help to heal wounds, but it can also improve oral health and much more.


Manuka honey is an amazing superfood with a powerful and beneficial nutritional profile.
However, not all Manuka honey brands in the market are equal. Here is a quick rundown of the most popular Manuka Honey brands and what sets them apart from all the others.
Comvita Certified UMF 15+ (MGO 514+) Raw Manuka Honey I New Zealand's #1 Manuka Brand I Super Premium Grade | Non-GMO…
$49.99
$59.99
Rated 4.5 out of 5 by 1296 reviewers on Amazon.com

Buy Now
Kiva Raw Manuka Honey, Certified UMF 15+ (MGO 514+) – New Zealand (8.8 oz)
$39.99
$49.99
Rated 4.6 out of 5 by 2433 reviewers on Amazon.com

New Zealand Honey Co. Raw Manuka Honey UMF 15+ | MGO 514+, 8.8oz / 250g

$38.88

Rated 4.6 out of 5 by 1563 reviewers on Amazon.com

Buy Now
WildCape UMF Certified 15+ East Cape New Zealand Manuka Honey, 500g (1.1 lb)

$72.89

$88.89

Rated 4.6 out of 5 by 576 reviewers on Amazon.com


Buy Now
Wedderspoon Raw Premium Manuka Honey KFactor 16, Unpasteurized, Genuine New Zealand Honey, Multi-Functional,…

$77.49 $84.11

Rated 4.7 out of 5 by 7704 reviewers on Amazon.com


Buy Now
1. Comvita Manuka Honey

Comvita Manuka Honey is the guaranteed choice for high-grade, high-quality, UMF certified genuine honey. It is probably the most popular
Manuka Honey brands available.
Product Highlights:
UMF and GMO certified Manuka honey
The full range extends from UMF 5+ to UMF 20+
Monofloral Manuka Honey
Comvita was established in 1974 and is a pioneer brand for Manuka honey. This brand follows the golden UMF standard to produce 100% genuine Manuka honey. For a conscious customer, this is a big advantage as it guarantees a sustainably sourced, high-grade product and has been the go to brand for many Manuk Honey coniscousers for years.
Comvita honey has a rich, creamy texture, and the color intensifies as it ages.
Although the Comvita Honey range begins at UMF 5+, the therapeutic value is insignificant below UMF 10+. So, you may like to look at the premium Comvita grades of UMF 10+ for medicinal purposes. Anything below has negligible therapeutic value and can be best used as a natural sweetener.
When compared to other brands with similar certifications, Comvita Honey is generally expensive. Also, their honey isn't raw. Finally, each grade of honey is available in just one size. This can prove to be very pricey, especially if you need only small quantities.
Pros:
Genuine UMF certification guarantees product authenticity
Variety of grades to suit different needs
Sustainably produced
Non-GMO, Kosher and Halal
Higher UMF of 10+ is medical grade
Cons:
2. Kiva Raw Manuka Honey
Kiva is the right choice when you want high-quality, certified raw Manuka Honey with therapeutic qualities.

Product Highlights:
UMF certified
Three grades available: UMF 15+, UMF 20+ and UMF 10+ Snap Packets
Raw honey
Produced in New Zealand
Kiva Manuka honey is of good quality. It is raw and pure. The UMF and MGO certifications prove that it is an effective anti-bacterial agent with good peroxide activity.
Kiva's grade UMF 15+ and 20+ honey samples are suitable for medicinal needs. The high MGO numbers also indicate that it is ideal for various health issues. Taste-wise, this organic brand is not overpowering and has just the right amount of sweetness.
The UMF 10+ snap packets do not have significant medicinal value. However, they can be used as natural sweeteners. These packets are also easy to carry around and great for when you need a quick, healthy, and sweet snack while traveling.
Pros:
Rich, dense texture
Different types of products to suit different needs
Organic and Non-GMO certified
Medicinal grade honey
Cons:
Not everyone likes the thick, dense texture of this honey
Expensive

3. New Zealand Honey Co. Raw Manuka Honey
New Zealand Honey Co. Raw Manuka Honey is 100% authentic certified and tested high-quality Manuka honey.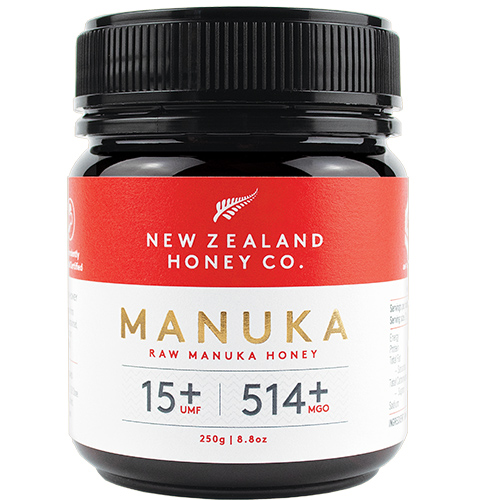 Product Highlights:
UMF and MGO certified
Six grades available
Range extends from UMF 5+/MGO 83+ to UMF 26+/MGO 1282+
Sourced from New Zealand
Indigenously Sourced from remote mountainous locations of New Zealand, New Zealand Honey Co. Manuka Honey has excellent health properties. The company tests and certifies each production batch to ensure authenticity and quality parameters.
The lower grades of UMF 5+ and 10+ honey are good immunity boosters and suitable for general consumption. Meanwhile, grades 15+ and above have medicinal benefits. With excellent anti-bacterial properties, this honey is a good remedy for colds, flu, and other infections.
New Zealand Honey Co. Raw Manuka Honey is unpasteurized and free from any artificial ingredients. Before bottling, the honey undergoes low-speed centrifugation. This process does not affect any of the positive attributes of the product. The bottled honey is just as potent as when extracted. The honey is thick and creamy. Since it has undergone minimum filtration, it remains fresh and flavorful.
Pros:
Meets UMF and MGO standards
Raw honey with a fresh flavor profile
Medicinal quality
Luscious texture
Minimally filtered to retain original properties
Cons:
Mild medicinal flavor
Expensive as the UMF grading increases
4. WildCape Manuka Honey
WildCape Manuka honey is authentic, sustainably sourced, and full of unique flavors. It is produced from the Manuka flowers in the Eastern belt of New Zealand. This honey has excellent medicinal properties, as well as an intense taste.

Product Highlights:
UMF certified honey
Available in a variety of sizes and grades
Comes from the Eastern region of New Zealand
The most distinct characteristic of WildCape Manuka honey is its unique flavor profile. Since this honey is harvested from the remote East coast region of New Zealand, it has a unique taste. The lower grades of WildCape honey of UMF 5+ and 8+ are delicious when spread on toast. The higher grades of UMF 10+ and 15+ have excellent medicinal value.
Interestingly, WildCape Manuka honey is sweet even at UMF 10+. This is quite contrary to expectation as honey tends to become bitter as the UMF grade increases. Hence, this honey can be used both as a sweetener and as a medicine.
Finally, the company impresses us with its commitment to green and sustainable practices. It is commendable how WildCape pays special attention to its packaging. All their honey is sold in re-usable, BPT free, PET jars. They also indulge in ethical bee harvesting practices to make sure that their products are top-grade and pure.
Pros:
Mild taste despite high UMF grading
Raw honey with a distinct flavor profile
Eco-friendly reusable packaging
Medicinal properties
WildCape follows ethical and green honey harvesting processes
100% pure honey
Cons:
Some buyers find the flavor to be too mild
Higher UMF grades are expensive
5. Wedderspoon Raw Premium Manuka Honey
If you are looking for a cheap but good brand of Manuka honey and aren't bothered about UMF certifications, Wedderspoon Raw Premium Manuka Honey should be suitable.

Product Highlights:
Three different grades available
Wedderspoon follows their own grading system called K-Factor for product quality
Non-GMO and raw
Sourced and packed in New Zealand
The biggest drawback of Wedderspoon Manuka honey is that it doesn't comply with UMF and MGO standards. Since these gradings are the benchmarks of authentic Manuka Honey, the actual effectiveness of this brand is debatable. So, Wedderspoon Manuka honey may not be the right choice for you if you want a 100% guarantee for the products you use.
Nevertheless, Wedderspoon Manuka honey isn't entirely unregulated. The brand follows its own grading criteria called the K-factor. This is based on the concentration of Leptospermum scoparium in the honey. It places importance on the holistic properties of Manuka honey to measure quality.
Although there is no data about the non-peroxide activity of Wedderspoon Manuka honey, it is still safe for consumption. This is, in fact, the only brand that meets the Safe quality food standard. Wedderspoon also has MPI certification from the government of New Zealand.
So, don't hesitate to try a sample of Wedderspoon honey. But be realistic with your expectations if you intend to use it as medicine.
Of the varieties that Wedderspoon produces, the mono-floral variety or K-Factor 22+ and 16+ Manuka honey are supposedly stronger. The other K-Factor 12 option is multi-floral honey, which is derived from a blend of sources.
Pros:
One of the most affordable brands of Manuka Honey
Available in a variety of sizes include convenient travel-size packs
Organic, unpasteurized honey that is free of antibiotics and pesticides
Meets the SQF (safe quality food) standard
Delicious taste
Multifloral and monofloral variations available
Cons:
Not UMF or MGO certified
Unspecified medicinal value
Unclear about NPA activity
MOISTURIZING MANUKA HONEY BODY BUTTER RECIPE
This Body Butter recipe is courtesy of Wedderspoon Manuka Honey. To learn more about their product click here.
Ingredients:
Equal parts coconut butter, coconut oil, shea butter (measurements depend on amount of body butter you want to make; we recommend starting with 1/4 cup of each)
1 Tbsp Wedderspoon Manuka Honey
Optional: Coloring, fragrance, essential oils Directions:
Put coconut butter, coconut oil, and shea butter in a sauce pan. Keep on medium heat until completely melted.
Remove from heat and let mixture sit until it is opaque. To speed up this process you can put the mixture in the fridge or freezer for about 30 minutes.
Once the mix is ready, use a hand mixer on a low setting to break it up. Add Wedderspoon Manuka Honey, and add coloring, fragrance, and/or essential oils if desired. Whip mixture until it is fluffy.
Transfer to a container and enjoy!
What Are the Manuka Honey Grading Systems, and Why Are They Important?
Manuka honey enjoys more importance than other traditional varieties of honey because of its medicinal properties. This single factor also justifies its higher price. However, not all Manuka honey is created equal.
You may not enjoy the therapeutic benefits of Manuka honey if you do not pay attention to the quality of the product you buy. But how do you know what to expect from a particular brand of Manuka honey?
This is where grading systems like UMF, MGO, and K-factor come into focus. But to understand these terms, we should first analyze what makes Manuka honey special. We will briefly explaine to give you a good basic understanding that should make your decision making process, on which Manuka honey you should buy, easier.
Any honey in raw form has antibacterial properties due to the presence of hydrogen peroxide. However, when the heat is applied, this hydrogen peroxide is neutralized. Since the processing of honey involves heat, it can cause honey to lose its antibacterial properties. So heat is not a good thing.
However, Manuka honey is an exception. It displays antibacterial properties even after its hydrogen peroxide is neutralized by heat processing.
This unique anti-microbial property of Manuka honey is due to the presence of another chemical compound called methylglyoxal or MGO. This active ingredient is present as dihydroxyacetone or DHA, exclusive to Manuka flowers. It isresponsible for Manuka honey's non-peroxide antibacterial activity or NPA.
So, the more MGO a batch contains, the more potent this variety of Manuka honey should be. But how do you identify this?
To help customers evaluate the quality of Manuka honey, standard grading systems were developed. Let us look at the most important and relevant grading systems that are common with Manuka honey.
What is UMF, MGO, and K-factor?
Of the different grading systems used to evaluate the quality of Manuka honey, UMF, MGO, and K-factor are most popular.
UMF
Of the different types of Manuka honey grading systems, UMF is held in the highest regard. UMF certified honey is genuine as it gives an accurate representation of the anti-bacterial properties of a batch.
UMF measures MGO and DHA levels to determine the non-peroxide activity of honey. Accordingly, it grades honey on a scale of 5+ to 30+ according to the antibiotic strength.
Manuka honey with UMF 10+ displays high anti-bacterial activity and is suitable for therapeutic uses. Higher numbers indicate higher purity and hence, better benefits.
MGO
The MGO system directly calculates how much methylglyoxal is present in a type of honey. Manuka honey has very high MGO levels. So, if the MGO scale is above 100+, it is highly likely that the sample primarily contains Manuka honey.
However, a factor to consider is that MGO levels are tested by the concerned company themselves. So, it isn't exactly verifiable.
K-Factor
The K factor grading system is created and used exclusively by Wedderspoon. The scale consists of three divisions—K-Factor 12, K-Factor 16, and K-Factor 22.
The numbers on this scale represent the pollen content in honey. So, honey with K-Factor 22 has a higher percentage of Manuka plant pollen than that in K-Factor 12.
Since pollen counts are not considered an accurate measure of purity, the K-Factor is not an efficient grading system for Manuka honey.
What to Look for When Choosing Manuka Honey?
When you wish to buy good quality Manuka honey, it becomes necessary to rely on recognized grading scales. Since UMF measures the non-peroxide activity and follows strict verification protocols, this is the most reliable certification.
After UMF, MGO is the next most trustworthy choice. However, always go with a credible company to guarantee that the numbers can be trusted.
For high-quality Manuka honey with medicinal value, the K-factor and bioactive labels are not reliable. So, you may like to avoid brands without UMF or MGO labels unless you want to use the honey as a natural sweetener.
You cannot make a bad buying decision with any of the Manuka Honies we have reviewed for you in this article, but be aware of those you may find from time to time on the shelf of big box stores.
MANUKA HONEY ACNE FACE MASK!! Clear skin in one week!
Click here for more info on the Top Rated Manuka Honey Face Mask
In Conclusion…
Pure Manuka honey has unparalleled therapeutic benefits that make it a star amongst other traditional varieties of honey. However, it is imperative to choose genuine brands to enjoy any actual benefit. Standard grading scales will help with this choice.
This post revealed the best Manuka honey brands available. We also looked at the different factors that should help you make an informed and correct choice. Whether it is for general use or targeted treatment, this should help you find the right Manuka honey for your personal needs.